A Simple Life

Download from following channels:
iTunes:    A Simple Life
Amazon: A Simple Life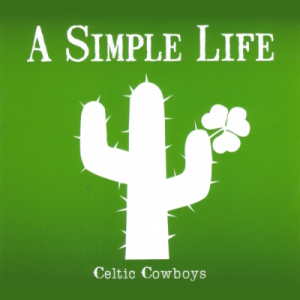 "Best Country Album 2011"
On their new CD "A Simple Life" the Celtic Cowboys walk with the well-known ease betweenAmerican Music and Irish Folk.
Eleven fine tracks are released on the album, four of which are
own compositions and two exclusively written for the Celtic Cowboys.
Traditional Irish tunes find
their place in Country- and Bluegrass songs as if they always belonged together.
The Celtic
Cowboys demonstrate how strong both genres are connected, even a good old song from The
Beatles appears in a surprisingly way in their interpretation.
Again and again the five Cowboys
Deputy Dirk (guitar, vocals), Sitting Bumm (percussion, accordion), Flanger Ranger (guitar,
vocals), Mando Marshall (mandolin, banjo, vocals) and Brian McMarnoch (upright bass, vocals)
show in their concerts how naturally this combination flows.

For the production of "A Simple Life", the Celtic Cowboys had a keen sense of selecting guest
musicians, all of them good friends.
Their support and inspiration perfectly fits the arrangements
for this project.
Hanne Balzer (Liederjan) playing tuba, Boris Sundmacher (Jawbone, Acoustic
Fingers, One Trick Pony) at 5-String Banjo and Dobro, Uli Rademacher (Franz Josef Degenhardt, Tish Hinojosa) at blues harp, Michael Möllers (Emerald) playing fiddle, Bernd Schultze (Paul Botter´s Soul & Blues Project, Elephant, TU-Big Band) at piano and Hartmut Fischer (Elbe Brass, Blaswerk) playing the trumpet completed this studio production.

Since their successful first album "Greengrass Meets Bluegrass", the Celtic Cowboys changed
some things considerably: Dirk Schulze composed four catchy songs, and two songs were
contributed from Patricia Salas (FREQUENCIA MOD) and Tim Swan.
The sound of the band has
developed remarkedbly by integrating new ideas into their music. Finally, it was just consequent
to meet at the studio and record the second album.

And again, the Celtic Cowboys show that they have fun playing this kind of music and that life
ain't complicated with a bit of fun. Just A Simple Life!
Yeehaaa, here we go…!!!
Tracks:

1. Being A Roady

2. Don't Rock The Banjo

3. A Simple Life

4. She's My Wife

5. Mandragore Reel Set

6. Toy Heart

7. She Needs A Man

8. Wild Ghost Rover/Golden Stud

9. Feeling Like A Star/Fiona's Rag

10. Lady Highheel

11. A Lullaby